Treat yourself to a CBD bath soak
Relax, restore, and soothe your body and soul. Infused with 250mg of full spectrum CBD, magnesium rich Epsom salts, coconut oil, and the sweet soothing scent of lavender and rose.
Shop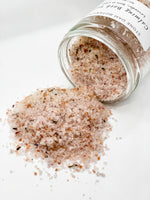 TINCTURES AVAILABLE IN THREE STRENGTHS
We offer three different options of our full spectrum CBD extract to meet your unique needs.
SHOP
Questions about CBD?
New to CBD? Or just a little confused as to what exactly it is? Click here to learn more and find out which products will work best for you.
More